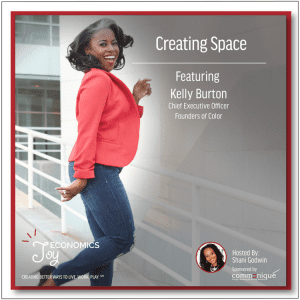 "You gotta get clear and you gotta create space, and if you don't create space, you can't get clear."
~ Kelly Burton
CEO, Founders of Color
In this episode of Joy Economics, we chat with Dr. Kelly Burton, the brainchild behind Founders of Color, a digital platform helping minority-owned businesses scale and grow.
Kelly is an accomplished entrepreneur who knows a thing or two about starting and running a successful business. But it was a very public failure that's led to her most ambitious undertaking to date aimed at upending the narrative for all minority-owned businesses.
Join us as Kelly talks about her childhood in New Jersey and how she went on to become the first in her family to graduate from college at Clark Atlanta University and then went on to earn her PhD. in political science from Emory University. She took all that hard-earned education and put it to work as a researcher before starting her own non-profit and corporate consultancy, Nexus Research Group. She's now helping minority-owned businesses grow and scale, with her newest undertaking, Founders of Color.