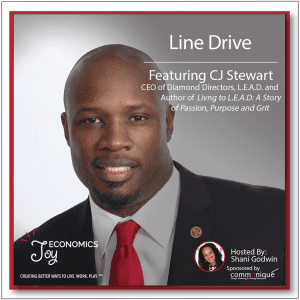 "For me humility is not thinking of yourself less but thinking of others more."
~ CJ Stewart
CEO, Diamond Directors, Baseball Player Development & Executive Director, L.E.A.D (Launch, Expose, Advise, Direct)
"Where you start does not have to dictate where you finish." This powerful theme is at the heart of CJ Stewart's life story. Stewart grew up in one of the most dangerous housing projects in Atlanta, Georgia. Despite the odds stacked against him and with the help of his community and strangers who saw his potential, Stewart went on to play competitive high school and college baseball and was eventually drafted by the Chicago Cubs.
In this candid conversation with Joy Economics host, Shani Godwin, learn more about Stewart's rise and find out how he is building a legacy by not only training future baseball stars, but impacting at risk, inner-city, minority youth facing insurmountable odds just like he did so many years ago.
Get ready to be inspired and motivated to make your own change in the world!