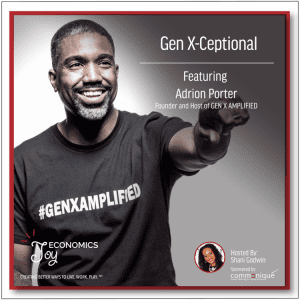 "We can change that embarrassing title Generation X into a more positive title like Generation X-Cel, Generation X-Ceptional, Generation X-Uberant, Generation X-Travagant, Generation X-Traordinary."
Adrion Porter
Founder and Host of Gen X Amplified
In this episode, we chat with Generation Xer, Adrion Porter, who is a marketing veteran with over twenty years of experience working with some big brands that include HBO, Cartoon Network, and Citi.
Adrion is also the founder and host of a podcast called Gen X Amplified. His show provides leadership and development insights from and for his listeners who he proudly describes as the X-Ceptional, X-Traordinary generation.
Listen in as Adrion talks about his experience, how to pivot and turn a career low into a career and personal high, and how to use his 5-step B.R.A.N.D. framework to create a winning personal brand.