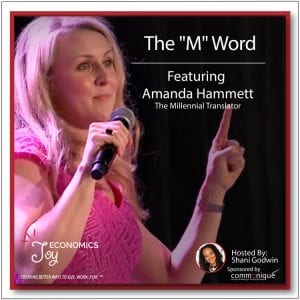 "Resilience, that is something that I think is THE most important thing any parent, anybody should look to develop is that—resilience and the ability to bounce back."
Amanda Hammett
CEO
Millennial Translator
At some point in our lives we will each experience a turning point—that unforgettable point in time when something happens that causes us to shift and change direction in a major way.
In light of the global impact of COVID-19, we wanted to replay this timely episode featuring the powerful story of Amanda Hammett, also affectionately known as the "Millennial Translator."
Amanda's story is about finding the courage and resilience to pivot after suffering an unexpected career blow. So as you try to cope with the impacts of COVID-19, we hope this episode will get you excited about exploring new opportunities, embracing growth, and proactively creating better ways to live, work and play.
You'll also gain valuable insights from Amanda about the millennial generation's mindset and how you can leverage this understanding for greater success in the workplace.
Do you have a Joy Economics story to share? We'd love to hear from you! Let us know how you're pivoting in life and how you're coping with the effects of the COVID-19 crisis.