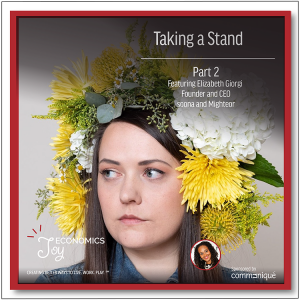 "So much of what we're talking about can be easily misconstrued as we just need to talk about how we've pivoted our ability to make money. But what I see this as is an opportunity for me to pivot my ability to be a leader."
Liz Giorgi
Founder and CEO
soona and mighteor
If you tuned into Part 1 of our candid conversation with Elizabeth Giorgi then you learned that for her doing good business doesn't just mean producing highly-converting content. It also means having the courage to take a stand. She's done just that while fighting for gender and now racial equality.
Tune into the second half of our conversation as we celebrate the resilience of small businesses and learn how Liz finds joy and the energy to keep pursuing what's next.
Do you have a Joy Economics story to share? We'd love to hear from you! Let us know how you're pivoting in life and how you're coping with the effects of the COVID-19 crisis.